Filter by Category
Trips
Online Registration Unavailable
Birding Tour: Costa Rica
with Doug Hitchcox

Next session starts Jan 15, 2020
Join this private birding tour for Resplendent Quetzals, Scarlet Macaws, and a long list of other fabulous tropical birds and specialties in a beautiful country with Field Guides Inc and Maine Audubon.
This Costa Rica tour has been designed to sample many of the country's major habitats on a short tour while keeping travel time between sites to a minimum. Targeting many of Costa Rica's most charismatic bird species, we'll travel to the steamy Caribbean lowlands, up through the foothills and cloudforests of the bird-rich eastern slopes, into the gorgeous oak forests and the scrubby paramo of the high Talamanca mountains, and down into the transitional forests in the Pacific coastal lowlands. All along the way, we'll be staying in comfortable lodges or hotels, often with fantastic birding right outside our doors!
A full trip itinerary is available here: Maine Audubon Costa Rica Tour Itinerary
More information including past trip lists and registration info is available here: Costa Rica 2020 with Maine Audubon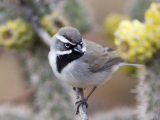 Online Registration Unavailable
Birding Tour: Arizona
with Doug Hitchcox

Next session starts Mar 14, 2020
Join this private birding tour for Arizona Winter Specialties with Field Guides Inc and Maine Audubon.
Southern Arizona is a fabulous place for a birding tour in winter! The wide San Rafael Grasslands seethe with a multitude of wintering finches. Scarce thrashers sing from mesquites in the desert near Phoenix. Thousands of Sandhill Cranes rise bugling from protected roosting sites in the Sulphur Springs Valley. A plethora of raptors ply the vast desert skies, searching for prey and thermals. Winter irruptives like Mountain Bluebirds and Lawrence's Goldfinches appear in varying numbers most years. And Mexican species wander across the border to add a tropical twist. Our mid-March timing also gives us a shot at some early spring migrants -- while all of the wintering birds are still on territory.
We'll be based in Phoenix for two nights and Tucson for four, and all of the areas we visit are easy day trips from very comfortable hotels. If you're looking to escape the winter blahs, head to southern Arizona for a truly exceptional winter birding experience!
A full trip itinerary is available here: Maine Audubon Arizona Tour Itinerary
More information including past trip lists and registration info is available here: Arizona 2020 with Maine Audubon