Filter by Category
Speakers
Intro to Native Plants for Your Landscape
with Eric Topper

Next session starts Jun 12, 2018 at 7 pm
Come learn the basics of how to get started using native species of wildflowers, shrubs, and trees in your garden or yard. Eric Topper, who helps lead Maine Audubon's "Bringing Nature Home" initiative will introduce some of the plants, practices, and perks of restoring ecology in developed landscapes.
This program is designed specifically as a primer for Maine Audubon's Native Plants Sale & Festival on Saturday, June 16th.
Registration Unavailable
L.L.Bean & Maine Audubon Birding Festival
Price not
available

Next session starts May 25, 2018
Join us for a weekend filled with events and activities for beginner and expert birders of all ages.
Download Full Events Brochure here. [pdf]
Friday 5/25: 6-9pm
Saturday 5/26:7 am-8:30 pm
Sunday 5/27: 7 am-5 pm
The L.L.Bean Birding Festival partners with Maine Audubon to present opportunities for all birders in beautiful coastal Freeport, Maine. We offer boat trips to explore the birds of Casco Bay, guided walks, live bird presentations, kid's activities with the Cornell Lab of Ornithology and a variety of workshops. We'll also explore the world of bats with Wildlife Acoustics and feature a live broadcast of Ray's Talkin' Birds. Our keynote speaker is renowned ornithologist David Sibley. Maine Audubon will be leading several outings throughout the weekend.
Please check brochure for location of each event.
Selected highlights:
FRIDAY, MAY 25, 7:30-9 p.m. | Bat & Owl Prowl
Mast Landing Sanctuary
Come for a special evening event with Maine Audubon staff naturalist DougHitchcox and bat expert Danielle Gustafson. We'll look and listen for bats,ovenbirds, barred owls and hermit thrush, and use Wildlife Acoustics' batdetector to find bats that might not otherwise be identified.
SATURDAY, MAY 26 or SUNDAY, MAY 27 8:30 a.m.-Noon | Birds of Casco Bay Boat Trip, $75
Join Captain Peter Milholland from Seacoast Tours of Freeport and a guidefrom Maine Audubon for a scenic birding tour off the shores of several smallislands in Casco Bay. Peter, a marine educator for over 25 years, will take usto hidden coves and bays where we'll search for seabirds. Space is limited—advance registration is required.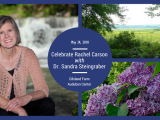 SOLD OUT Speaker Series: Celebrate Rachel Carson with Dr. Sandra Steingraber

Next session starts May 24, 2018 at 7 pm
Members $12, Nonmembers $15
Location: Gilsland Farm, Falmouth
In partnership with the Environmental Health Strategy Center, we are pleased to present "Celebrate Rachel Carson with Dr. Sandra Steingraber."
Both women are recognized across the world as heroic role models and guides for environmental champions who ground their activism in science.
Sandra Steingraber is an American biologist, author, and cancer survivor. Steingraber writes and lectures on the environmental factors that contribute to reproductive health problems and environmental links to cancer.
During her search, Dr. Steingraber began to study Rachel Carson. "For my father, who served as a teenage soldier in Naples where the pesticide DDT was first deployed, Silent Springwas an antidote to wartime thinking....For me...Silent Spring was the reason I left the laboratory and became a science writer. Silent Spring was my father's armistice. It was my call to arms."
Dr. Steingraber calls Carson her "guiding spirit" and portrays herself as "laboring away in the vineyards that Rachel Carson planted, trying on a daily basis to find a language to talk with the public about various technical subjects."
Dr. Steingraber will talk about Rachel Carson, Silent Spring, and how they each influenced her own work in promoting a clean environment as key to public health.
There will be a book signing following the talk.
Full Course