Filter by Category
Other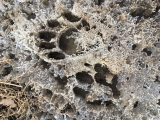 Online Registration Unavailable
Nature Tuesday (Winter)
with Davida Sky

Next session starts Jan 28, 2020 at 1:30 pm
2 additional sessions through Feb 25, 2020
Next meeting: January 14
Location: Kettle Cove, Cape Elizabeth.
If there is a cancellation we will email  you on Tuesday morning
We plan to do some coastal birding with Carol Beyna who will have her scope so that we can see details, but please bring your binoculars. We'll visit two sites: first, Kettle Cove in Cape Ellizabeth (64 Kettle Cove Rd., Cape Elizabeth) and second, Dyer Point (221-299 Two Lights Road, Cape Elizabeth). Our prewalk showed Surf Scoters, Black Scoters, Common Loons, Eiders, Long Tails, Harlequins, and Purple Sandpipers.  
If folks are interested we could prolong our trip with a stop at the Back Bay in Portland. Please dress warmly; it's windy on the shore. Even if the weather does not allow for birding, we will still meet at Kettle Cove to walk the trails, check for tracks, and winter ID trees and plants. In this case ice grippers and/or walking poles will be helpful. Also: The seed pods and buds are interesting, so your 10X magnifier would be a plus.
Project WILD
with Linda Woodard

Next session starts Feb 8, 2020 at 9 am
Location: Husson University, Bangor
Member: $25, Nonmember: $30
Project WILD's hands-on approach to learning engages students in investigating the world around them, connecting them to conservation careers, and participating in solid STEM activities. 
The NEW REVISED AND UPDATED  Curriculum and Activity Guide can easily be adapted to meet the learning requirements for academic disciplines ranging from science and environmental education to social studies, math, and language arts. All curriculum materials are backed by sound educational practices and theory.
Educators may choose one or more Project WILD activities to teach a concept or skill. The activities may be integrated into existing courses of study, or an entire set of activities may serve effectively as the basis for a specific course.
WILD workshops are designed so teachers become familiar with the activities and their multidisciplinary use in the classroom.
Workshops:
The activities found in Project WILD curriculum guide are intended for use in both classroom and informal settings.
Click here to find our more about Project WILD.
If you would like to pay a different way than by credit card call, please call Beth at 207-781-2330 ext 273
Full Course
Piping Plover Party

Next available session starts Mar 14, 2020 at 4 pm
An indoor/outdoor party at the beach in March! Why? Why not? We're going to have a blast at the Ferry Beach Retreat & Conference Center in Saco. If it's warm enough, we'll have outside activities on the beach but we also have plenty of indoor activities, including food and drinks for adults & kids. It's the perfect party to shake away the winter blues and get ready for spring. Let's get together to celebrate our beloved Piping Plovers and all their shorebird friends.
Join us to learn about Maine Audubon's Piping Plover Project and shorebird initiatives. At the same time you will enjoy:
Food & Drinks 
Guided Beach Walk
Games and Activities 
Silent Auction
...and more!
The event benefits a scholarship program for Maine Audubon's shorebird interns, supporting up-and-coming biologists who will help shape Maine's environmental future.
Maine Audubon adult members & Maine UU members 21+: $25 (includes 2 tickets for beer or wine)
Non-members 21+: $30 (includes 2 tickets for beer or wine)
Members 6 - 20 yrs old: $10
Non-members 6 - 20 yrs old: $15
All children 6 and under - FREE!