Filter by Category
Educator Programs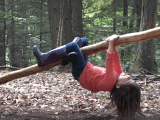 Speaker Series: "The Best Day Ever"
with Patti Bailie

Next session starts Apr 11, 2019 at 7 pm
Members: $12  Non-Members: $15
Location: Gilsland Farm, Falmouth
Join nature-based early childhood education leader, Patti Bailie, for a screening of Antoich New England's short film "The Best Day Ever" and discussion about forest field days in Vermont kindergartens.  Dr. Bailie will share the latest research and trends associated with how experience and play in nature contributes to childhood development.
This event is part of the national "Week of the Young Child."
Patti Bailie is Assistant Professor of Early Childhood Education at University of Maine Farmington.  Dr. Bailie is active in the field of early childhood environmental education serving on the advisory board of the Natural Start Alliance and as consulting editor of the International Journal of Early Childhood Environmental Education. Her research interests include identifying high quality practices of nature-based preschools and their impact on school readiness.
Growing Up WILD
with Linda Woodard

Next session starts Apr 13, 2019 at 8:45 am
POSTPONED from Feb 2.

Join us at our Fields Pond Center for this in-depth 4-hour workshop is designed to provide training for early childhood educators.
Growing Up WILD is an education program that builds on children's sense of wonder about nature and invites them to explore wildlife and the world around them. Through a wide range of activities and experiences, Growing Up WILD provides an early foundation for developing positive impressions about the natural world and lifelong social and academic skills.
Growing Up WILD is a multi-award winning program having received the 2009 Family Choice Award and the 2011 Renewable Natural Resource Foundation Excellence in Journalism Award.
Workshop participants will receive the activity guide, Growing Up WILD: Exploring Nature with Young Children, which:
Is written especially for early childhood educators of children ages 3-7.
Features 27 field-tested, hands-on, nature based, ready-made thematic units.
Includes outdoor explorations, scientific inquiry, art projects, music, health and movement, conservation activities, reading and math connections.
Involves social, emotional, physical, language, and cognitive domains to help foster learning and development in all areas.
Supports developmentally appropriate practice allowing children to learn at levels that are individually, socially, and culturally appropriate.
Is correlated to the National Association for the Education of Young Children (NAEYC) Standards and the Head Start Domains
Aquatic WILD
with Linda Woodard

Next session starts May 3, 2019 at 8:45 am
Member: $23, Nonmember: $25
Join us for this lively and engaging professional workshop at our Fields Pond Center, where you will be doing hands-on activities in our pond. Participants are introduced to Project Aquatic WILD materials, activities, and strategies. Educators gain the experience and confidence needed to work with their students and to integrate Project WILD into their teaching.
All receiptents will receive the NEW REVISED AND UPDATED Project WILD Aquatic K-12 Curriculum and Activity Guide emphasizes aquatic wildlife and aquatic ecosystems with 40 multidisciplinary activities for grades K-12. 
Each Project WILD Aquatic activity contains objectives, method, background information, a list of materials needed, procedures, evaluation suggestions, recommended grade levels, subject areas, duration, group size, setting and key terms. A glossary is provided, as well as a cross-reference by topics and skills.
Field investigation activities in Aquatic WILD enable students to learn methods and protocol for conducting scientific investigations, including how to formulate a research question, engaging in systematic data collection, and drawing conclusions.
 The In Step with STEM activity extensions make use of a variety of tools and instruments, from litmus tests to smartphone applications, and involve students in the application of technology, science concepts, and math skills as part of their problem-solving efforts.
Contact hours provided.
If you need to make a payment with a method other than credit card, please call Beth Pauls at 207-781-2330 ext. 273 to register.  If you have questions, contact Linda at 207-781-2330 ext 213.