Filter by Category
E.AASPEAKER
Speaker Series: 21+ Live Animals Presentation
with Center for Wildlife

Next available session starts Jan 23, 2020 at 7 pm
Members $12, Nonmembers $15
Join Center for Wildlife Executive Director, Kristen Lamb, for a look inside a wildlife medical clinic and education center.  Through live animal ambassadors, X-Rays, photographs, and storytelling, participants will learn about real-time challenges our wildlife face such as societal empathy on the decline, rapidly changing climate, and development/habitat loss. 
This program may or may not be for the faint of heart, but all will leave feeling empowered and inspired with more knowledge and understanding to be a positive impact on the natural world, beginning today.   
Beer and wine is included.
This program is for ages 21+ and is sponsored by Allagash Brewing and Chickadee Wines.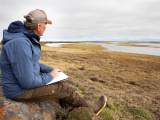 Speaker Series: Artist's Journal from the Arctic
with Michael Boardman

Next available session starts Feb 13, 2020 at 7 pm
Location: Gilsland Farm, Falmouth
Members $12, Nonmembers $15
Local artist and Maine Audubon friend Michael Boardman was the Artist in Residence for Arctic National Wildlife Reserve (ANWR) last summer.  This interactive presentation will include Michael's stories, artwork, and lessons from one of the Earth's most imperiled landscapes.