Filter by Category
E.AARenGF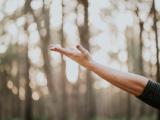 Gentle Yoga and Yoga Nidra with Deb Cook

Next available session starts Apr 27, 2020 at 5:15 pm
3 additional sessions through May 18, 2020
Members: $10/class, Nonmembers: $15/class
Location: Gilsland Farm
Join Deb Cook for the return of longer days, springtime energies, and Monday Night Yoga. Beginning Deb will lead a weekly class blend of Meditation, Gentle Yoga and Yoga Nidra/Deep Relaxation as we tune in to the emergence of spring. This popular class is open to all levels, no experience and all experience is welcome.  
Class begins at 5:15pm with a 10-minute guided meditation to cultivate relaxation and awareness. This is followed by a mix of gentle yoga and ends with a Yoga Nidra (a guided relaxation that relaxes and restores core energy). Participants can come for the full 75 minutes or arrive at 5:30 as schedules allow.
Deb is a Kripalu-certified Yoga Teacher and Kripalu-certified Yoga Nidra Guide, and has been leading meditation and yoga classes and retreats at beautiful nature-based locations in Maine for 20 years.  Please bring your own mat and any props you may like to use in your practice. Feel free to contact Deb for more information at liveyourpractice@gmail.com.