Filter by Category
A.AAEVENT
Piping Plover Party

Next available session starts Mar 14, 2020 at 4 pm
An indoor/outdoor party at the beach in March! Why? Why not? We're going to have a blast at the Ferry Beach Retreat & Conference Center in Saco. If it's warm enough, we'll have outside activities on the beach but we also have plenty of indoor activities, including food and drinks for adults & kids. It's the perfect party to shake away the winter blues and get ready for spring. Let's get together to celebrate our beloved Piping Plovers and all their shorebird friends.
Join us to learn about Maine Audubon's Piping Plover Project and shorebird initiatives. At the same time you will enjoy:
Food & Drinks 
Guided Beach Walk
Games and Activities 
Silent Auction
...and more!
The event benefits a scholarship program for Maine Audubon's shorebird interns, supporting up-and-coming biologists who will help shape Maine's environmental future.
Maine Audubon adult members & Maine UU members 21+: $25 (includes 2 tickets for beer or wine)
Non-members 21+: $30 (includes 2 tickets for beer or wine)
Members 6 - 20 yrs old: $10
Non-members 6 - 20 yrs old: $15
All children 6 and under - FREE!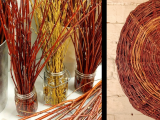 Wild Crafted Basketry
with Rebecca May Verrill

Next available session starts Mar 15, 2020 at 9 am
Location: Gilsland Farm, Falmouth
Members $95, Nonmembers $115 (Includes materials)
In this hands-on workshop we will explore an introduction to traditional basket weaving techniques with round, wild harvested, flexible fibers.  In the first hour or so of the workshop we will travel to local low-lying areas on the property and cut our own Red Osier Dogwood for immediate wet-weave use upon returning to the Visitor's Center.
Instructor will provide the majority of pre-harvested materials, however, the nature of this project is for the maker to establish a connection with their own materials, having an understanding of how and what to look for and harvest. Wonderful organic variations in size, color, texture and form will occur!
Students will be guided through an introduction to make a large flat-bottomed basket. Depending on size and ease of use with the materials, each student should be able to complete the bulk of the basket (and the knowledge of how to complete it afterward, if time doesn't allow) within the workshop.
Examples and stages of development, as well as different styles of baskets will be shared, as well as many different resources to encourage and inspire future weaving projects. It is highly likely that participants will leave this workshop with a new way of seeing the landscape around them and never leave home without a pair of snippers in their glove box or backpack.
What to bring: We will be spending the first hour or so of class outside, harvesting materials, so please dress accordingly! Bring small, hand-held prune or garden shears, gloves and waterproof boots. Feel free to bring other shoes to change into during class. Adequate hand strength, creative openness and a positive attitude are the only other requirements.
Please bring your lunch and snacks. A refridgerator and microwave will be available.
About the Instructor: Rebecca May Verrill is a native of the western foothills of Maine where she first developed her love of crafting objects from the natural world.  She learned the folk tradition of basketry while living in Taos, NM where she lived for 10 years primarily working with clay. Influenced by strong craft traditions in the southwest and harvesting wild red willow along the banks of the Rio Grande to craft vessels of a different sort, Rebecca easily added basketry to her creative practice. She received her Master of Fine Arts from SUNY New Paltz in 2013 and currently maintains a studio practice in Portland, ME, where she teaches the occasional workshop, exhibits work regionally and nationwide. For more about Rebecca and her ceramics please visit www.rebeccamayverrill.com.