Filter by Category
06 June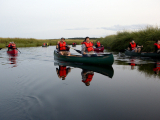 Online Registration Unavailable
Daily Guided Canoe Tour - Reservations Required

Current session started Jul 1, 2020 at 10 am
We are offering daily guided canoe tours by reservation only.  Please call 207-883-5100

This schedule could change at any point due to COVID-19 circumstances.  
Members $11, Nonmembers $13
Children $10
Experience the wildlife and plants of Scarborough Marsh as you paddle the Dunstan River. Paddling through the marsh, you will be exposed to its many inhabitants, from the snowy egret catching fish along the edge of the river to the mummichogs swimming in the water. A trained naturalist will show you the numerous marsh plants and even give you a taste of an edible one.
This tour is suitable for both novice and experienced paddlers. 
We strongly encourage visitors to bring their own life jackets. We will have a small number available for purchase.
If you have questions, you can e-mail smac@maineaudubon.org or call 207-883-5100.
Online Registration Unavailable
Sunset Canoe Tour

Next session starts Jul 19, 2020 at 6:30 pm
2 additional sessions
Call 207-883-5100 and press 0 to register
Members $12, Nonmembers $14
Experience the marsh at this beautiful time of day.  See the reflection of the setting sun on the calm waters of the Dunstan River, observe the herons and shorebirds flying back to their roosts, and enjoy the sounds of the evening marsh.
Please arrive a half hour before start time.
Advanced registration necessary. Call (207) 883-5100, Press O