Filter by Category
04 April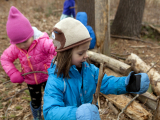 Online Registration Unavailable
Preschool April Vacation Camp
with Molly Woodring

Next session starts Apr 20, 2020 at 9 am
4 additional sessions through Apr 24, 2020
Registration Coming Soon!
Register for single days or the whole week!
Location: Gilsland Farm
Ages 3-5
Our half-day (9am-1pm) preschool camps are an opportunity for children ages 3-5 to learn about winter wildlife through play and outdoor adventure. Our daily schedule includes time for art, hiking, free play, games, stories, and songs.
Partial scholarships are available to those who need financial assistance. Please call 207-781-2330 x.273 or email scholarships@maineaudubon.org. You may also download the Maine Audubon Financial Aid Form (pdf). 
Preschool Camp Frequestly Asked Questions (pdf)
Monday: Who needs a habitat?
What do plants and animals need to survive? How can people protect and provide habitat for wildlife? We'll explore some special habitats and Gilsland Farm and plant seeds to take home. 
Tuesday: Nature Art
We'll practice observation and naturalist skills today as we use natural objects to inspire and create art both inside and outside! 
Wednesday: Earth Day
Today is the 50th anniversary of Earth Day! We'll celebrate and show our gratitude for the earth with a special stewardship project.
Thursday: Springtime Birds
Birds are migrating back to Maine, and even those that stayed the winter are becoming more vocal. We will practice making and identifying bird calls, and will look and listen for birds around Gilsland Farm. 
Friday: Pond Investigations
Now that the ice has melted, we will visit the pond to look, listen, and scoop for creatures! Along the way, we'll learn about the life cycles of different pond creatures.
Live Animal Show: Scavengers
with Center for Wildlife

Next available session starts Apr 24, 2020 at 10:30 am
Adult Member: $10,  Adult Nonmember: $15
Member Child: $5, Nonmember Child: $10 
Location: Gilsland Farm
Join Maine Audubon and our friends at Center for Wildlife for an up close look at several of their animal ambassadors. We'll learn about the adaptations that help these creatures survive in the wild, how they became non-releasable ambassadors, and what we can do to live in harmony with wildlife. 
 Please note: This program entails a formal presentation involving live animals, and is most appropriate for school-aged children and older. Guests are asked to remain still and quiet throughout the 45-minute presentation so as not to disrupt the animals and other people. Thank you!